Dear Orgreave Truth and Justice Campaign supporters we often get asked how best you can support us, below is a quick and easy guide of 5 things you can do right now!
---
Ask your MP to support the Early Day Motion into the Policing of the 1984-85 miners' strike
MP MODEL EMAIL
Support the Early Day Motion into the Policing of the 1984-85 miners' strike EDM #904
Dear MP
Many people in our mining communities were prosecuted during the 1984-85 Miners' Strike and convicted and sentenced in a grossly unfair and excessive manner. They have carried that injustice for over 35 years. During the dispute across the UK over 11,000 people were arrested, over 8,000 charged and between 150 and 200 imprisoned.
Miners and their families alongside the NUM and supporters have been campaigning for justice since the end of that strike. On Saturday 19th September 2020 it was reported that a review set up by the Scottish Government has proposed pardons being granted to those who were convicted due to matters relating to the strike.

Ian Lavery MP has now tabled an Early Day Motion calling upon the government to follow the lead of the devolved administration in Scotland and set up an independent review into policing in the UK during the dispute, with a view to issuing pardons to all of those convicted. Many MPs have already supported this EDM so please add your support for the EDM 904.
https://protect-eu.mimecast.com/s/nVmRCAM6oiQLYAUGbB62?domain=edm.parliament.uk
Thank you and best wishes
Link to find your MP:
‪https://members.parliament.uk/members/
OTJC media release here:
Link to EDM web page :
https://edm.parliament.uk/early-day-motion/57453/policing-of-the-198485-miners-strike?fbclid=IwAR1Y2StaCzuBR4-DYrXh1kxZrmCVvXdHql3flmFaj-qiC1NHNM6de3M96ck
---
2. Tweet your MP about the Orgreave Campaign and or the EDM you can find their twitter handle here:
https://www.mpsontwitter.co.uk/list
Use the #OrgreaveJustice and tag us in @orgreavejustice
---
3. Council Motion
---
4. Print of this poster and stick it in your window, Union Notice Board, Pub or local shop? Take a picture and post on social media always tag us in @orgreavejustice (on twitter) and use the #OrgreaveJustice on Twitter Facebook or Instagram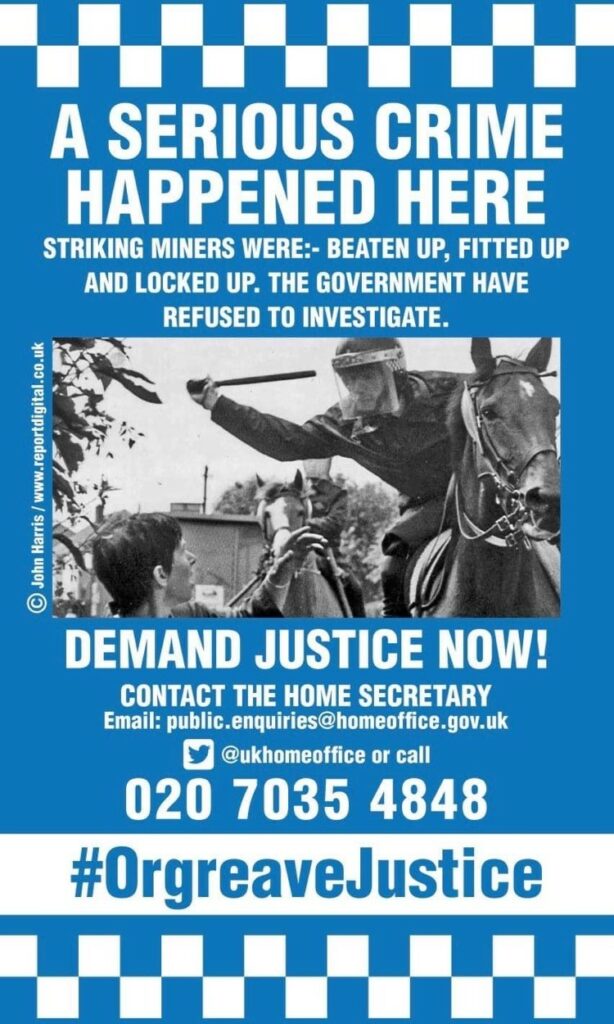 ---
5. Submit a freedom of information request
---
Please keep up to date with our information posted on our web page and social media.