In 2012 The Miners Rugby League Football Club broke new ground by playing in the North East Regional League and by doing so became the most Northerly Club in England.
The Club paid homage to the Regions rich mining heritage of Northumberland the shirts depicted the names of the 70 Collieries incorporated into The National Coal Board on Vesting Day 1947. Sadly as we know there is none left today?
The shirt also paid reference to the miners who gave up their lives to the mining industry which was poignant in the year of the 150th anniversary of the New Hartley Pit Disaster.
The Shirts were based on Featherstone Rovers traditional design of Navy Blue and White hoops chosen because the Yorkshire Club was from the true heartlands of the mining communities. Once again the Colliers and Miners were linked by the common bonds of Rugby League and Coal Mining.
To move the story on 12 months The Miners still play in the North East Rugby League but have found a new home on the reclaimed pit heaps at Ashington JWRUFC and Graham Murdie the Club Coach has designed and produced a new shirt for the forthcoming season.
The design still follows Featherstone Rovers traditional design but incorporated into the white hoops are the names of the 85 Collieries in Northumberland, Durham and Yorkshire that were closed after the strike of 1984. Orgreave is recognised as the 86th and final name.
Rovers support is recognised by the inclusion of the Destination Superleague logo on the sleeve and it's thanks to Paul Taylor, Commercial manager for his continued efforts in helping the Club.
Woodhorn has allowed use of their logo for the front of shirt. The museums pit heads remains as an icon to the mining industry in the area of South East Northumberland.
"Strength through unity" is the inspiration taken from the Colliery banner of Dudley in Northumberland.
Thanks are given to our sponsors Arriva PLC through their "MAD" awards which enabled the Club to pay for a UKCC Level 1 coaching course. Special thanks go Martin Overton at SO Analytical for his continued support of the Club.
Graham Murdie said "I take the inspiration from my Grandfather who worked for over 40 years in the Industry. I have once again included his tally number into the design".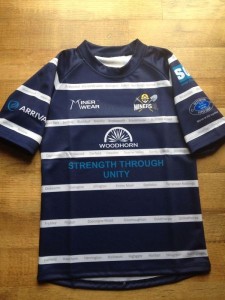 "The year 2014 will be the 30 year anniversary of the strike which devastated not only the Coal Mining industry but whole communities in the North and it will be the attempt by Featherstone to take their rightful place amongst Rugby Leagues elite
"I wanted to produce not only a shirt to play in but to provide a living document that people can see and provoke the memories of our culture and our past. It's a case of lest we forget.
Further details can be found www. minersrl.co.uk
The shirts are obtainable from www.minerwear.co.uk