Exhibitions at Unity Works tell story of 1984-5 miners' strike
Originally published in the Pontefract and Castleford Gazette on 19 February.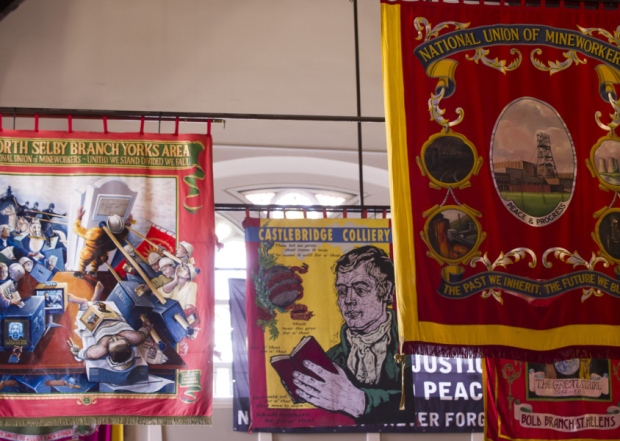 Four exhibitions telling stories of comradeship during the 1984-5 miners' strike will go on display today.
The exhibitions will be on show at Wakefield's Unity Works ahead of a day-long festival commemorating the strike on March 5.
The With Banners Held High event is back for a second year and will include music, photographs, films, debates and guest speakers at the venue on Westgate.
Artwork and photographs on display from today include Music and the Miners' Strike, an exhibition created by Pierre Bouquet.
Photographs by Pete Dunwell of musicians including Billy Bragg, who linked their music with politics and protest, are also on display.
Solidarity and the 1984/85 Miners' Strike is a display of twenty six panels created by the Trades Union Congress (TUC) Library.
And pictures by John Sturrock, Stefano Cagnori and Martin Jenkinson tell the story of International Solidarity and the Miners' Strike.
The daytime festival will be held on Saturday, March 5, at Unity Works, followed by a fundraising gig headlined by Liverpool indie band The Farm.
Tickets for the both the daytime and evening events are available by logging on to www.unityworks.co.uk