This article by Hajera Blagg orginally appeared on UniteLive.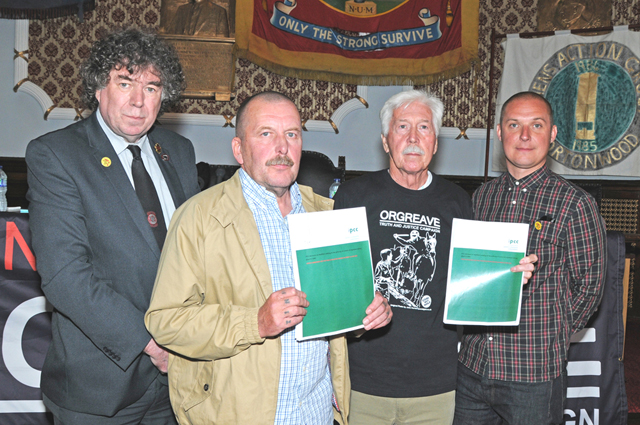 Campaign group defiant as IPCC rules out Orgreave investigation.
Campaigners from the Orgreave Truth and Justice campaign (pictured) called a press conference today (June 12) in response to the announcement by the Independent Police Complaints Commission that it would not further investigate the brutal clash between South Yorkshire police and striking miners over 30 years ago.
Known as the Battle of Orgreave, the clash resulted in excessive police violence while picketing miners were attempting to prevent supplies leaving a coking plant in Rotherham.
Afterwards, police were accused of manipulating statements and providing false information in courts.
Today, the IPCC ruled out an inquiry into the police assaults on miners and the resulting fallout, because, it said, too much time had passed since the incident.
At the press conference, chaired by Unite organiser Joe Rollin, the Orgreave Truth and Justice campaign (OTJC) expressed their frustration but said they remained staid in their resolve to continue their fight for a full public inquiry.
"The fact that the IPCC, described – rightly in our view – by many prominent individuals as 'not fit for purpose', is stepping aside on Orgreave affairs will not therefore be deterring the OTJC from continuing its campaign," the campaign group said in a statement. "OTJC notes that the IPCC itself recognises in its report the limitations of what the organisation can do and that only a Hillsborough style public inquiry can eventually get to the truth.
"The OTJC continues to gather increasing support from organisations and individuals for a full public inquiry into why it was that on 18 June 1984, 95 miners were arrested at Orgreave after thousands of police officers – many in riot gear, with others on horseback – brutally assaulted miners participating in a strike aimed at defending jobs and mining communities," the OTJC noted.
The OTJC explained why a full public inquiry would be necessary in the search for justice.
"An inquiry will help reveal exactly why, when the subsequent court cases took place, all of the charges, including riot were abandoned. It must inevitably lead to two things.
"Some officers being charged with a series of offences – assault, perjury, perverting the course of justice and misconduct in a public office. Secondly, a paper trail that would indicate that the actions of the police at Orgreave were influenced by political pressure from within the highest ranks of the government of the day," the campaign group said.
A Home Secretary spokesperson responded to today's news, saying that Home Secretary Theresa May "will consider any request that she receives to set up a public inquiry into Orgreave."