Unite community film event
A new film from the Orgreave Truth and Justice Campaign
FREE online film showing and panel Q&A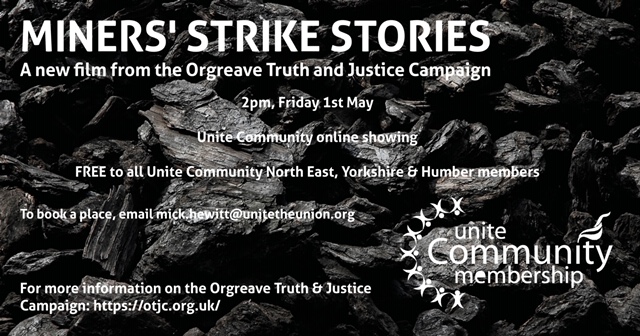 2pm, Friday 1st May – free to all NEYH Unite Community members.

To book a place, email mick.hewitt@unitetheunion.org
The film records real stories from participants of the great strike – miners, families, Women Against Pit Closures and other supporters from across our mining communities.

These accounts not only tell the story of times past, but also provide inspiration to future generations about why the Trade Union Movement matters today.

After the film, Kate Flannery (Secretary, Orgreave Truth and Justice Campaign), John Dunn (OTJC activist, Unite Community member and striking miner) and Josh Berlyne (Unite young activist, Sheffield University Branch) will take part in an online panel discussion about the importance of the Strike stories for the union movement today.

We hope you can join us!
https://unitetheunion.org/why-join/membership-types/community-membership/