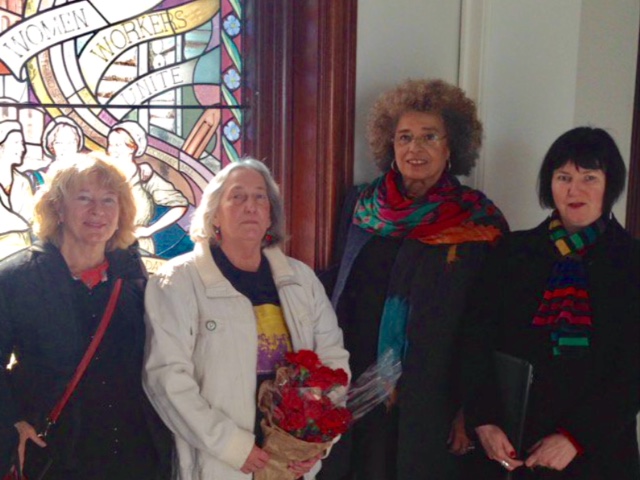 It was an honour for the OTJC to be invited to speak in Belfast by women's collective – Reclaim the Agenda and Belfast Trades Council for International Women's Day (IWD) celebrations to talk about the immeasurable role of Women during the Miners Strike and in the OTJC.
Kate Flannery and Wendy Emmett representing the OTJC had the privilege of meeting many wonderful Women activists involved in the Belfast Women's Movement and U.S. Socialist Political Activist, Academic and Civil Rights Campaigner – Angela Davis on IWD in Belfast City Hall. Here is a photo of Kate and Wendy with Angela and Lynda Walker from Reclaim the Agenda in front of Belfast City Halls IWD stained glass window.
Angela addressed packed meetings over two days in Belfast speaking on many issues including racism, the prison system and the role of women in industrial struggles. She reminded us of the many major industrial battles involving the key role of women in the US, Britain and Ireland.