Pit Images: Paintings and Drawings from the Coalfields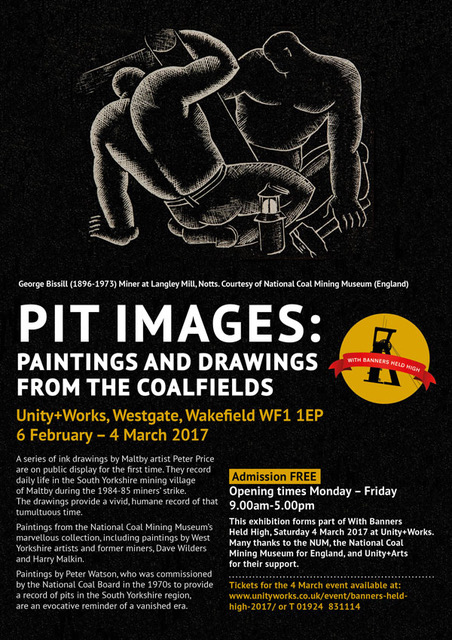 Drawings by Maltby artist Peter Price on public display for the first time
A new art exhibition opens at Unity+Works, Wakefield on Monday 6 February. For the first time a series of ink drawings by Peter Price, a Maltby artist, will be on public display. They record daily life in the South Yorkshire mining village of Maltby during the 1984-85 miners' strike. The eighteen drawings record scenes of confrontation with the police as well as the struggle for survival as people scavenge for wood, eat meals provided by the Women's Support Group, or hunt for rabbits. They provide a vivid, humane record of that tumultuous time.
The drawings were discovered by accident in the basement of the NUM offices in Barnsley. When the NUM national offices in Sheffield were shut down after the final savage round of pit closures in 1994 a huge collection of items had to be removed. Chris Skidmore, Yorkshire NUM chairman, explains: 'Things had to get pushed into wherever we had space at Barnsley. There was no labelling or anything like that. The drawings were in a chest in the basement and I found them when I was looking for copies of The Miner from the 1970s for an exhibition.  As I was getting them out I saw the drawings. Nobody knew they were there. Nobody had ever asked about them, but that's how we came to find them.'
The exhibition also includes a selection of fourteen paintings from the National Coal Mining Museum's marvellous collection. Works on display include paintings by West Yorkshire artists Dave Wilders and Harry Malkin.
The third strand of the exhibition is twenty paintings by artist Peter Watson. These depict former mines and were commissioned by the National Coal Board in the 1970s to provide a record of pits in the South Yorkshire region. They are an evocative reminder of a vanished era.
Granville Williams, who has coordinated the exhibition with Unity+Arts and the National Coal Mining Museum for England, said, 'This art exhibition links into our big event With Banners Held High on Saturday 4 March, and fits in perfectly with this year's  theme The Flame Still Burns: The Creative Power of Coal.'
The exhibition, which is free, opens on Monday 6 February at Unity+Works, Wakefield WF1 1EP and runs until 4 March. Open Monday – Friday from 9.00-5.00pm.