Test Department films at With Banners Held High – 5 March 2016 – Unity+Works, Wakefield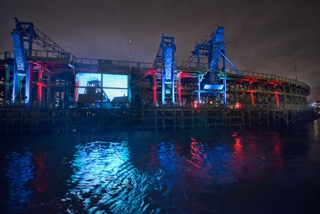 Test Dept  and their films Fuel to Fight and DS30 will feature prominently in With Banners Held High at Unity+Works Wakefield on Saturday 5 March. A packed day of music, debates, films, poetry and exhibitions will mark the end of an industry, with the closure of Kellingley Colliery last December.
One theme of the day highlights the vital creative links between music, politics and protest which grew up during the miners' strike.Test Dept produced Shoulder to Shoulder with the South Wales Striking Miners' Choir during the 1984-85 miners' strike and organised the Fuel to Fight tour.
Two members of Test Dept – Graham Cunnington and Paul Jamrozy – will take part in a discussion on Music and the Miners' Strike and introduce the two films Fuel to Fight (1984) and the stunning DS30, made for the 30th anniversary of the miners' strike. DS30was first shown on Dunston Staiths, a gigantic wooden structure on the Gateshead riverside, built in 1893 to unload coal from railway trucks onto ships for transport around the UK and abroad.
DS30 commemorates the 1984–85 miners' strike through footage of mining communities culled from national and local archives, set to Test Dept's own strike-related music.
Granville Williams, chair of With Banners Held High, said, 'I saw the film at last year's Durham Miners' Gala and was bowled over by it. It is very powerful and moving, and I am really pleased that we will be able to show it for the first time in Wakefield.'
Speakers at With Banners Held High also include the former French miners' union secretary, Daniel Dernancourt, who will talk about the incredible support French workers gave to the striking miners and their families, Tony Garnett, the producer of Kes andCathy Come Home, and ASLEF President Tosh McDonald.
Musicians at the day event include Root and Branch, Grace Petrie and David Rovics.

A new book PIT PROPS: Music, International Solidarity and the 1984-85 Miners' Strike will be launched at the event.

Doors open for the day-time event at 10.30am. Tickets from: http://www.unityworks.co.uk/event/with-banners-held-high-2016/
There is an evening fundraiser with headline act The Farm with back-up
from Joe Solo and The Hurriers. Compere Attila the Stockbroker. 
Tickets from:http://www.unityworks.co.uk/event/the-farm/
Contact With Banners Held High: wbhh@talktalk.net or T 01977 646580