Solidarity and music of epic coal struggle
This story originally appeared in the Wakefield Express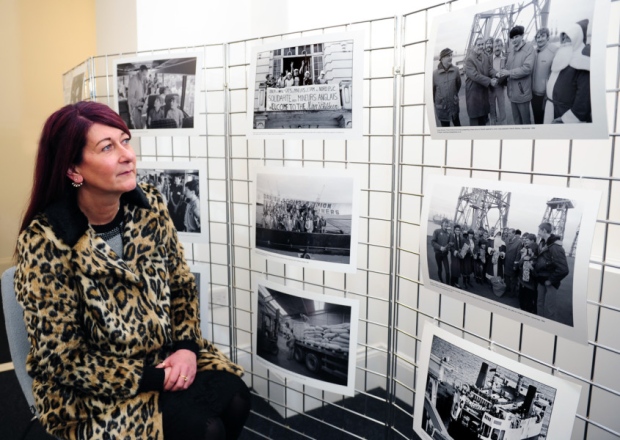 Striking images tell the story of how musicians supported a year-long struggle against pit closures in 1984-5.
International solidarity and music are among themes explored by four exhibitions on show ahead of a day-long festival to commemorate the Miners' Strike.
Previously unseen images are on display at Wakefield Unity Works, the venue of the With Banners Held High event on Saturday, March 5.
Among the exhibitions is Music and the Miners' Strike, created by Pierre Bouquet, who is from a former mining community in France.
Mr Bouquet said: "We wanted to explore the musical side of the strike and we did research into the music it inspired."
Mr Bouquet and arts group La Berline created Which Side Are You On?, a vinyl album of cover versions by French and British bands of strike-inspired songs by artists including Billy Bragg, The Style Council, Manic Street Preachers and Pulp.
Mr Bouquet said communities in France were affected by the economic downturn caused by pit closures.
He said: "It was interesting looking at the connections between coal mining areas in England and France and the solidarity between French and English miners.
"We are in the most poor area of France. There is unemployment and social problems. It's quite hard to recover in a mining area."
Photographs by Pete Dunwell of musicians who linked their music with politics are also on display. And twenty-six panels of leaflets and pamphlets from the TUC tell a fascinating story of support for the miners.
Dramatic images by the late Martin Jenkinson, official NUM Yorkshire photographer during the strike, are on display at Unity Works.
They tell how people around the world supported the miners and sent food to help families survive.
His daughter Juztine said: "I did some detective work and found pictures which have never been published. I was a teenager during the strike. I'm finding out more about the work he was doing." For tickets for the festival log on to www.unityworks.co.uk/events