Former French Miners' Leader to speak at With Banners Held High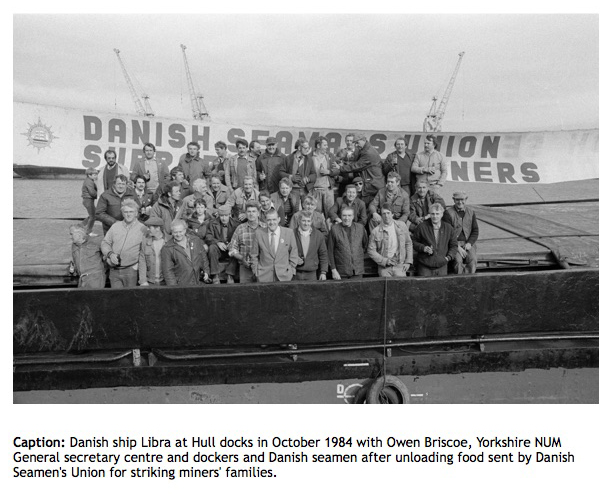 Daniel Dernancourt, leader of the French Federation of Miners during the 1984-85 miners' strike, is a keynote speaker at WITH BANNERS HELD HIGH at Unity+Works on Saturday 5 March
International Solidarity is a central theme of this year's With Banners Held High and Daniel Dernancourt, general secretary of the French miners during the 1984-85 miners' strike, is one of the international speakers at Unity+Works, Wakefield, on Saturday 5 March.
Daniel played a key role in organising a flow of money, food, toys, clothing and toiletries to the UK miners and their families. He will be speaking about this and his own personal reflections, recalling 'my memories of moments of struggle and friendship, of combat and fraternity, of commitment and solidarity.' Also speaking with him will be Didier Baur, International Officer of the French union, the CGT.
In the same session Leif Mikkelson from Denmark, and Anne Scargill and Betty Cook from Women Against Pit Closures will be recalling their own efforts in building international support.  John Burrows, Treasurer of Derbyshire NUM at the time of the strike, will present highlights of his trip to Japan to gain support for the striking miners.
There is a packed programme of exhibitions, debates, music, poetry, and films at this year's With Banners Held High. Other keynote speakers include Tony Garnett, producer of Kes, Cathy Come Home and The Price of Coal, and Tosh McDonald, President of the rail union, ASLEF.
The book PIT PROPS: Music, International Solidarity and the 1984-85 Miners' Strike, edited by Granville Williams, will also be launched on the day. Fully illustrated, it contains chapters which reveal the largely unknown but inspiring story of the scale of international support for the miners and their families during and after the strike.
Doors open for the daytime event at 10.30am. Buy tickets at: http://www.unityworks.co.uk/event/with-banners-held-high-2016/
An evening benefit, compered by Attila the Stockbroker, has headline act Louise Distras supported by Joe Solo and The Hurriers. Tickets from: http://www.unityworks.co.uk/event/louise-distras/