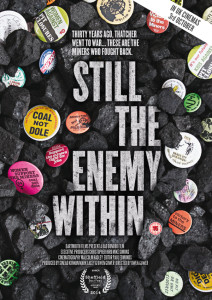 Still The Enemy Within is a unique insite into one of Britain's most dramatic struggles, the 1984-85 Miners' Strike.
No experts. No politicians. Thirty years on, this is the raw first-hand experience of those who lived through the UK's longest strike. Follow the highs and lows of that life-changing year.
Local showings (all at 7.00pm).
Friday 9th January: Montgomery Hall, Church St, Wath-upon-Dearne.
Friday 16th January: Silverwood Miners' Welfare, Doncaster Road, Dalton.
Friday 30th January: Dearne Playhouse, Washington Road, Goldthorpe.
Tickets: £5/donations on the door, or phone Mick on 01709 761047.
View the flyer: STEW Wath Silver Gold