Attila the Stockbroker – supported by Jethro Platts and Matt Abbott
Lamproom Theatre, Barnsley: 10 Feb 2016 – 07:30 PM
EASY WAYS TO BOOK AND PAY
By telephone:- 01226 200075 – between 10.00 a.m. and 2.30 p.m. Monday to Saturday
By post:- The Lamproom Theatre, Westgate, Barnsley, S70 2DX
On-line:- Visit www.barnsleylamproom.com
In person:- At the Box Office between 10.00 a.m. and 2.30 p.m.
Monday to Saturday and 45 minutes before the scheduled start time of each performance.
Price: All tickets £10.00
Singer-songwriter and pioneer performance poet, Attila has fought injustice all his life, including benefit gigs during The Miners' Strike and for 'Rock Against Racism'. His work tackles serious issues but he'll make you laugh when he delivers it!
COAL (Gary Clarke Company)
Barnsley Civic Theatre Friday and Saturday 19/20th February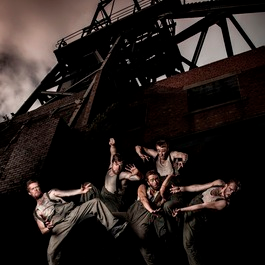 "All of us owe the comparative decency to poor drudges undergound, blackened to the eyes with their throats full of coal dust, driving their shovels forward with arms and belly muscles of steel" George Orwell (1934)
Marking the 30th anniversary of the end of the 1984/5 British miners' strike, award winning choreographer Gary Clarke proudly presents COAL, a riveting dance theatre show which takes an nostalgic look at the hard hitting realities of life at the coal face.
Strong, powerful and emotive, COAL explores the darker underbelly of the mining industry unearthing the true nature and body wrecking demands of a working class industry now almost forgotten.
Box Office: 01226 327000 Email: enquiries@barnsleycivic.co.uk
Opening Times
Monday to Friday 10am – 6pm, 
Saturday 10am – 5pm, 
Sunday 10am – 4pm (where we have a scheduled family performance).
The Box Office remains open prior to all performances and for a further 30 minutes after the start of each performance.
Tickets: Full Price £12 | Concessions £10
*Discounts for groups and schools bookings