Louse Distras headlines With Banners Held High
Louse Distras headlines a tremendous line-up for With Banners Held High Benefit, Unity+Works, Saturday 5 March, 7.00-11.00pm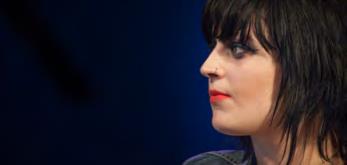 The poet/songwriter Attila the Stockbroker is the compere for three great acts at Unity-Works Wakefield on Saturday 5 March.
Musician, writer, broadcaster and activist, Joe Solo is a key figure in We Shall Overcome. His latest album Never Be Defeated tells the story of the men and women of Stainforth and Dunscroft during the miners' strike.
Barnsley-band The Hurriers have played Glastonbury and Tolpuddle and also have close connections with the We Shall Overcome movement. Their debut album From Acorns Might Oaks was released a few months ago.
Wakefield-born post-punk singer songwriter Louise Distras is the headline act. Her sound has been described as 'the rebirth of British punk; reinvented for a new generation.'  2016 will see the heavily anticipated follow-up to 2013 debut Dreams From the Factory Floor.'
The proceeds from the evening's fund-raising benefit will go to the Orgreave Truth and Justice Campaign, Justice for Mineworkers and the Oaks Memorial Fund.
Tickets at http://www.unityworks.co.uk/event/louise-distras/
Tickets for the day-time event at http://www.unityworks.co.uk/event/with-banners-held-high-2016/